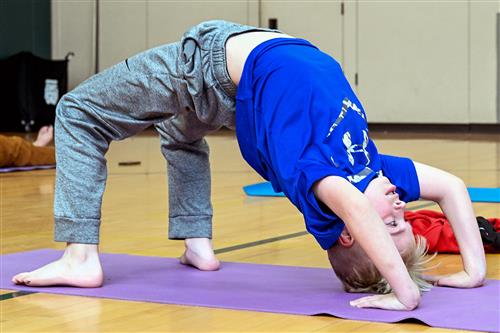 "Breathe in through the nose and out through the mouth" are one of the many grounding techniques elementary guidance counselor Jessica Jones has implemented in her yoga classes this semester with fourth, fifth and sixth grade students.
The popular wellness practice was introduced by Ms. Jones this year as a way for students to take a step back from their daily academic learning and decompress through movement and mindfulness. Ms. Jones was inspired to become a yoga teacher after experiencing its benefits during the pandemic. She found solace in the practice and it helped her mental health greatly in the midst of a challenging time.
Student doing a yoga pose.In fact, it was the main reason Ms. Jones decided to bring yoga to Heatly – she wanted students to experience the benefits for themselves. Studies have shown yoga can help students regulate emotions, improve their academic performance, alleviate stress and more.
Ms. Jones began by piloting yoga with fifth grade students in order to gauge interest and efficacy. She also utilized the opportunity to take students through a "full yoga flow" since most have never been through one. Yoga flows consist of an opening mediation that transitions to floor stretches, then balancing poses; back to floor stretches, and a closing meditation.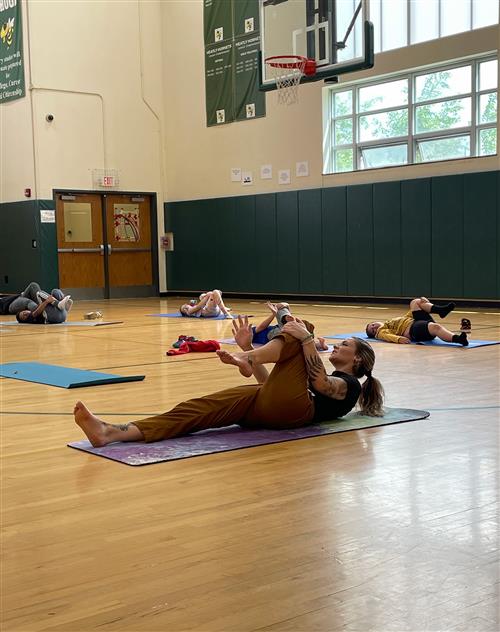 Teacher showing students a yoga pose. Yoga became an instant success amongst fifth graders and word quickly spread about the new exercise. After overwhelming interest and two months teaching fifth grade students, Ms. Jones decided to implement yoga in the fourth and sixth grades. Each grade had the opportunity to attend guided yoga sessions with Ms. Jones for a certain number of weeks over the course of the semester.
"Students have loved doing it [yoga], which was honestly a huge surprise. They were initially nervous to try certain poses, but then they gained so much confidence once they tried and succeeded," said Ms. Jones.
After an outstanding launch this semester, Ms. Jones aims to incorporate yoga into Heatly's after school program next year. She'll be the program's leader for its social-emotional learning (SEL) curriculum and plans to utilize mediation and mindfulness in each of her lessons.