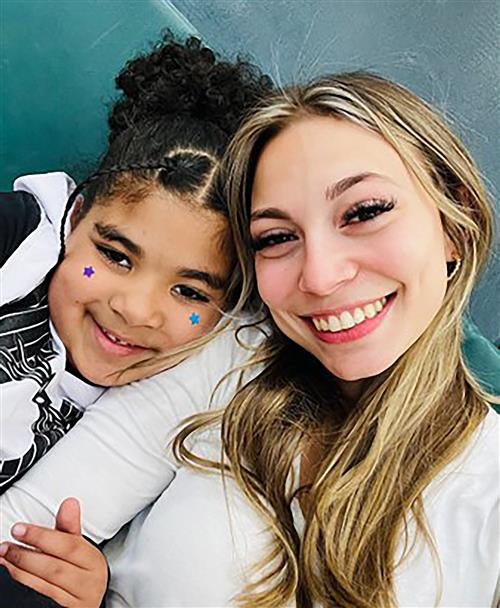 The next teacher spotlight is a fellow Heatly alumna, Julianna Terrault! Ms. Terrault is a teaching assistant and currently works with first grade students in Mrs. Lawlor's classroom. She attended Heatly as a student for four years, graduating in 2019 alongside some of her closest friends. Ms. Terrault then went on to student Early Childhood Development at Hudson Valley Community College (HVCC), earning her associate's degree in 2021.
Prior to her arrival at Heatly, Ms. Terrault worked at a local daycare and pizzeria. She was also a student at HVCC during this time, and would spend her school breaks substituting at Heatly. This inspired Ms. Terrault to pursue a teaching assistant certification; she then returned to Heatly in October 2021 as an employee and has been a teaching assistant ever since.
Ms. Terrault's passion for working with children began when she was a child herself, helping her older sisters with their children. During her high school years, Ms. Terrault would spend her free time visiting elementary classrooms and assisting teachers if needed. She also worked at various daycares, after school programs and the Green Island Park Program.
When asked what she enjoys most about her job, Ms. Terrault said "there's a list of things!" First, Ms. Terrault loves working with children, especially seeing their "ah-ha" moments when students grasp a concept.
"I love watching the spark light up in their eyes!" Ms. Terrault said with excitement.
In addition, Ms. Terrault enjoys being able to build strong connections with students and help develop their self-esteem while learning.
"I enjoy being a teaching assistant because I like to not only assist children with their academics, but to help them be the best version of themselves. My favorite part is that everyday isn't the same and there's always tomorrow to have a fresh start," said Ms. Terrault.
Lastly, Ms. Terrault enjoys the relationships she's established with staff, including meeting her best friend and fellow TA, Emily Burke.
Over time, Ms. Terrault has learned from her colleagues and has been given several pieces of advice about teaching. The best advice she's received so far is that "sometimes it's not about the income, but rather about the outcome of the children or child as a whole individual."
When she's not working at Heatly, Ms. Terrault can be found volunteering with the school. For example, she has worked on the Parent Handbook Committee and was the 2022 Class Advisor.
A fun fact about Ms. Terrault is that she and her sister have the same initials as their dad, "JMT."