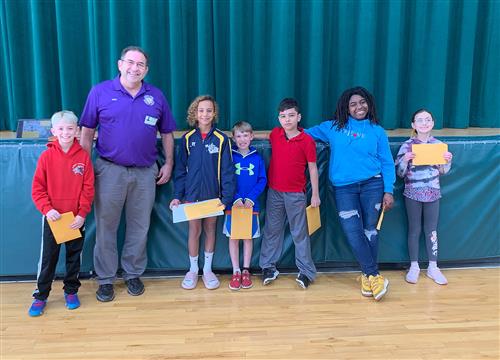 Several Heatly students produced award-winning poster designs for the Watervliet Elks Lodge's drug awareness poster contest. Six students in grades 3-5 placed either first, second, or third in their respective categories, with designs focused on this year's theme of "One Pill Can Kill." Congratulations to the following Heatly students on their success in this year's contest:
Kaiky Oliveria Silva, Second Place, Third Grade
Jamie Buckley, Third Place, Third Grade
Aliyah Carrington, Second Place, Fourth Grade
Joseph Brundige, First Place, Fifth Grade
Makayla Shortridge, Second Place, Fifth Grade
Zion Washington, Third Place, Fifth Grade
The poster contest was open to third, fourth and fifth grade students within the Watervliet Elks district. This year's theme was "One Pill Can Kill." Students were encouraged to be innovative with their creations, as long as their posters did not feature copyrighted characters and matched the following criteria:
Closeness to the theme;
Neatness;
Originality; and
Correct grammatical structure.
For their winning poster designs, each of the six Heatly students received a gift card to Walmart or Amazon ranging in value from $25-$75, as well as congratulations from Watervliet Elks Lodge member Bob Passonno (pictured). Their poster designs will now be forwarded to the district-level competition.